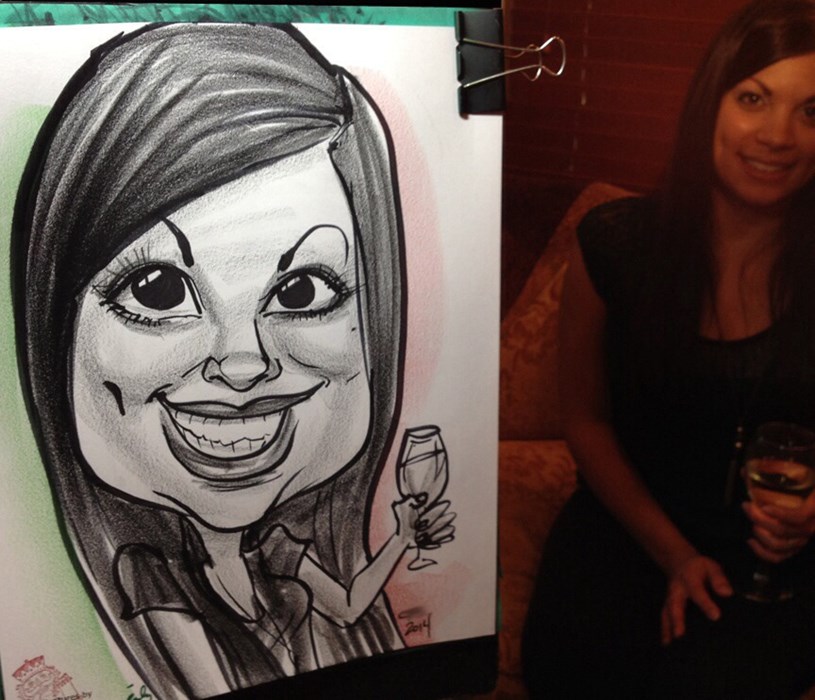 How many caricatures can you do in an hour?
It depends on the type of caricatures. If I am drawing Black-and-White Shaded Faces (which is 95% of my gigs) the speed is 12-14 faces per hour. If it's line drawings only (no shading or background color) I can draw 18-20 faces per hour. The event name and date are pre-written on each paper, and I use a one-or-two-color background which fits your theme, school, wedding or corporate color. For color caricatures, I can generally do 8-10 per hour. These are approximate speeds, I have been known to draw even more faces per hour than I quote! It also depends on how quickly people get in and out of my chair, their age, if they are chatty, etc.

How many people can you fit on one paper? Do they all have to sit there at once?
I can fit up to four faces on one sheet. It takes the same amount of time as drawing them all singly---it's always funny to me when people think it's faster to do lots of people on one sheet! They don't all have to sit at once---generally there's only one or two chairs for my subjects, and until I train my left hand to draw simultaneously with my right, I can still only draw one person at a time! :-)
Do they have to sit absolutely still?
No, I generally can draw even squirmy babies if they can look in my direction for just a minute or two. That first impression is when I get the general likeness down, the rest of the time is for details and shading.

What kind of space do you need to set up?
I use a French easel which is either freestanding or can go on a table. The client provides me with two or three chairs---one for me, and one for my subject---two, if there will be many couples drawn. A table is appreciated if possible--I can do without if necessary, but it's nice to have a place for my sign, supplies, and for folks to put their drinks, etc. I also need access to an electrical outlet, for my easel lamp. Basically, a 6' x 6' area will suffice.
If the event is outdoors, I need full shade so that my subjects don't squint and so that I can see without hurting my eyes! And please don't seat me next to speakers or generators, so I can converse with your guests--this is an experience they'll want to remember.

What size paper do you use? Do you provide bag?
I use 8.5 x 11" sturdy cover stock for guests' caricatures. If there are guests of honor (the birthday person, the wedding couple, etc) they get an 11" x 14" full-color caricature. A clear plastic bag is always provided with every drawing.

Do you offer frames or mats?
I can provide 12 x 16 personalized black mats (for a small fee per mat) if asked beforehand. I don't carry frames since they are easily available and such a personal choice.

How many hours can you draw? Do you take breaks?
I do have a two-hour minimum for all events. If an event is quite far from me, I may ask for a three-hour minimum. Wedding receptions have a three-hour minimum.
Most gigs are between the two-hour to five-hour range. As for breaks, I will take brief one after every three consecutive hours of drawing.
However, I can draw almost any amount of time. I've drawn practically non-stop for twelve hours at some festivals I've done!

How do you deal with lines?
Generally, the best way is first-come, first-serve. Sign-in sheets generally are not efficient, as time is wasted looking for the next person if/when they wander off (i.e. the artist can't draw while waiting, which lessens the number of caricatures possible in your time frame). If a sign-in sheet must be used, the client must provide an adult to supervise it.
My scheduled drawing time is posted on a sign next to me so people will know when I am finished. If I am asked to stay longer by the client, I note that on my sign, too. I also make announcements to the line, during the last half-hour, that my final drawing will be five minutes to my end time.
I have a one-drawing-per-person policy as well, in the interests of fairness, so as many people can be drawn as possible. Groups can always take photos with their phone, or have the drawing photocopied after the party.

I'd like to book you for my event. What do I do now?
Once you've emailed me for availability, I send a simple contract that lists the particulars of your party--client name, contact info, date, time, event location, and anything you'd like me to keep in mind (such as whether the event is a surprise, if there is a theme, what you'd like written on each paper, any special directions, etc.). I require a nonrefundable 1/3 deposit to hold your date for you (once I receive it, I turn down all other requests for my services for your time slot. If by some circumstance, I cannot do your event, I either refund your money or send a suitable replacement-- but so far in twenty years of doing this, that's never been necessary :-) Then I join you on your day and start drawing smiles and laughter!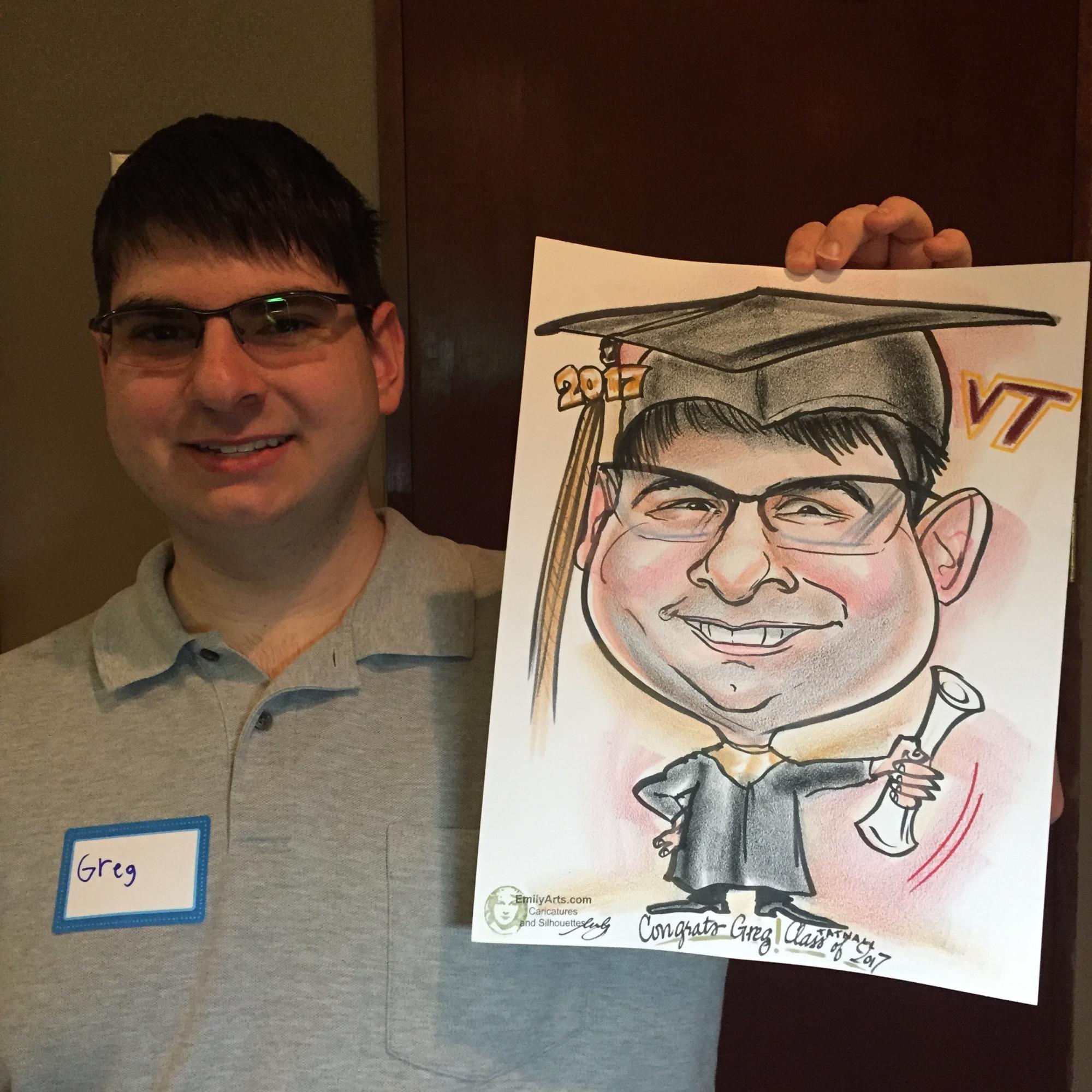 Above: These are typical examples of what I do at most events---shaded B/W caricatures with a color background. They are done with markers and colored pencil sticks and I can draw 12-14 faces per hour.
Shown here is a full-color-with-body caricature. This is done for guests of honor (brides and grooms, graduates, the birthday person, etc.) I can draw 8-10 of these per hour.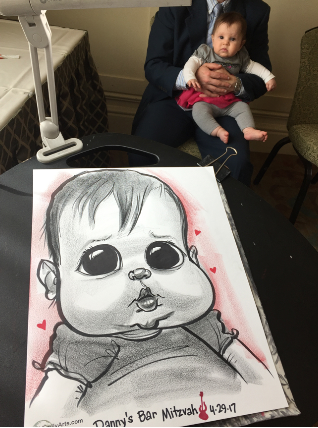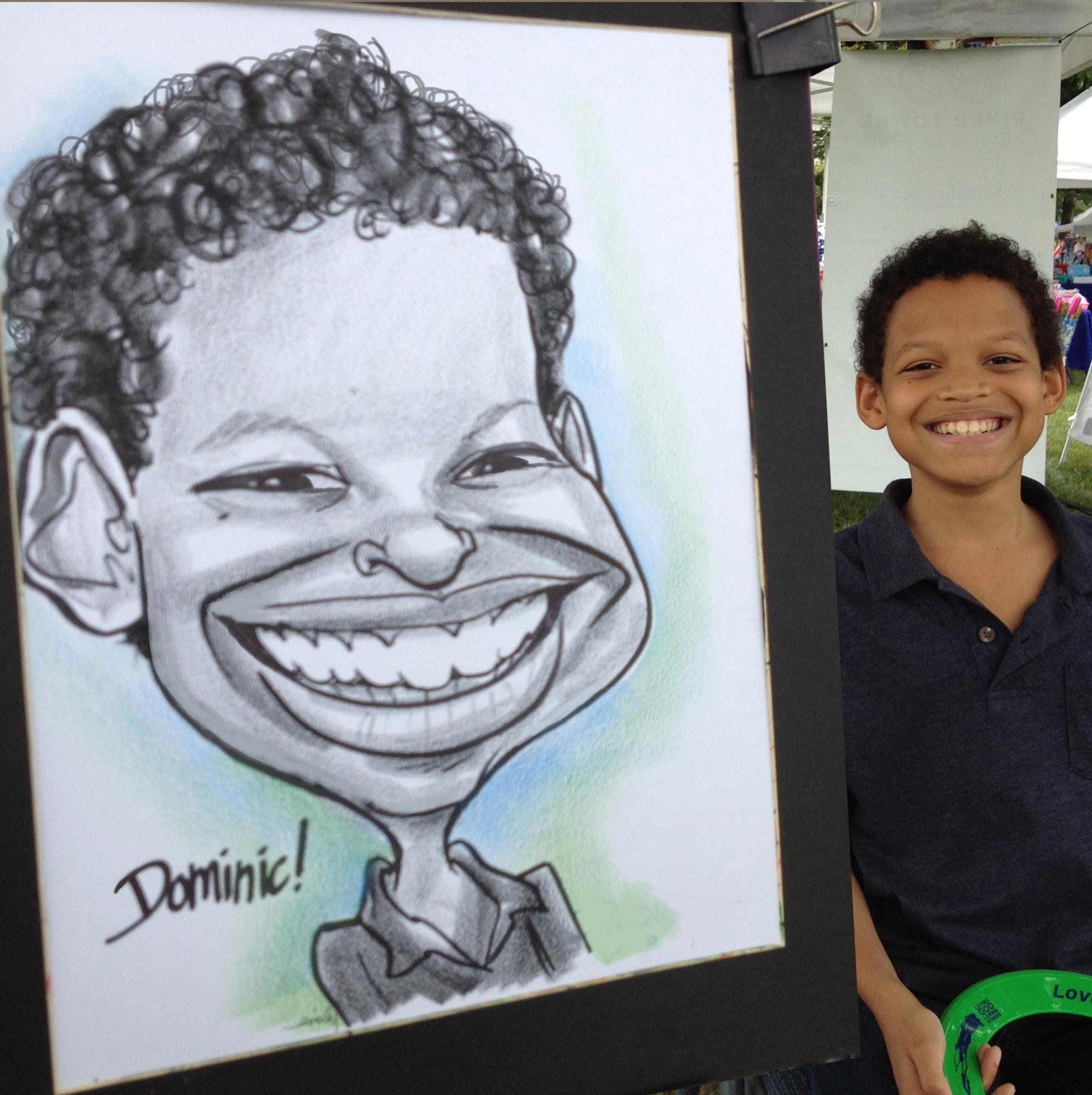 Above: Line drawing only, no shading...when speed is of the essence! 20 faces per hour.
Your guests will be charmed and AMAZED (read her reviews!) when you invite #CaricaturesbyEmily to your party! It's so much fun to watch spot-on, yet light-hearted likenesses emerge from her pen, in only minutes per face. It's not just entertainment--it's also a party favor that your attendees will treasure forever!
Emily has caricatured everyone from newborns to one-hundred-year-olds...and is proud of her many years of professional experience at all types of events, from casual to formal. As an award-winning Gold member of the International Society of Caricature Artists, Emily is passionate about her craft. At events, her clients remark that they can plainly see how much she enjoys what she does for a living--putting smiles on faces, both literally and figuratively! Please visit the Pricing page for rates.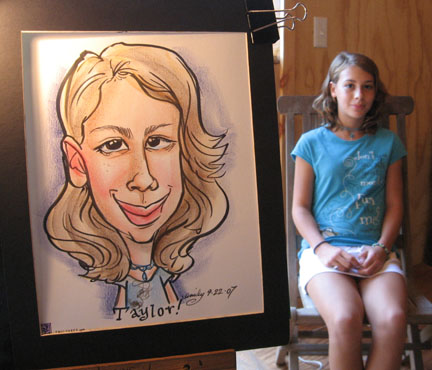 Below: two examples of full-color caricatures.