There are two ways to create a sign-in board. The first way is to simply buy a sign-in mat and frame, (they're easily found at stores such as ACMoore or Michael's--my most popular 8 x 10 caricature fits into a 16 x 20 frame) insert your caricature, remove the glass, and provide a pen. It's a nice touch to attach the pen to the frame with a ribbon in your wedding or event color. The second way is to have your caricature mounted to a large foam-core board. For both, you need a table easel or display easel. Some venues can provide this for you. Then, have your guests sign away! This makes a nice ice breaker/diversion while your guests are waiting for your arrival, as well as during your event.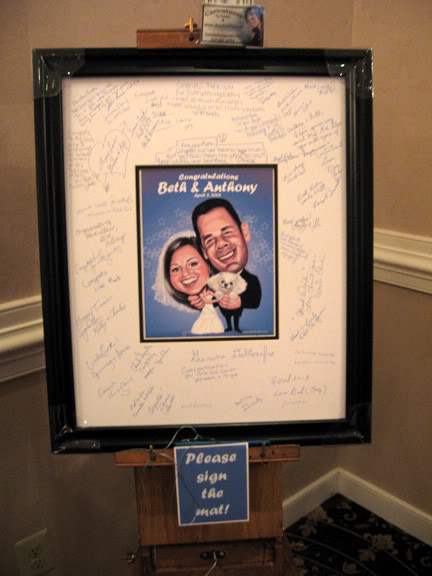 Wedding Sign-in Caricatures
Digital wedding caricatures make a wonderful addition to your celebration! They can be used for sign-in boards, gifts for your wedding party and new in-laws, and wedding favors.

All I need from you is reference material--photos of you both and your wedding attire. The basic wedding caricature includes 2 full length caricatures, a plain one- or two-color background, and the couple's names and wedding date. Additional items, such as pets, detailed backgrounds, etc. require a quote. Payment in full is required to start work. You will receive a sketch to approve before final color; one revision may be made at this point. Upon completion and approval, you will be emailed high-resolution jpeg files in three sizes: 2 x 3, 5 x 7, and 8 x 10. You can print them however/wherever you like for personal use (I recommend FedEx Office). Usual turnaround time is two weeks from receipt of photos/payment. Please email me to discuss your order!



This is a paragraph. Double-click the text box and begin editing. Use the text editor to customize your text. It's that easy!